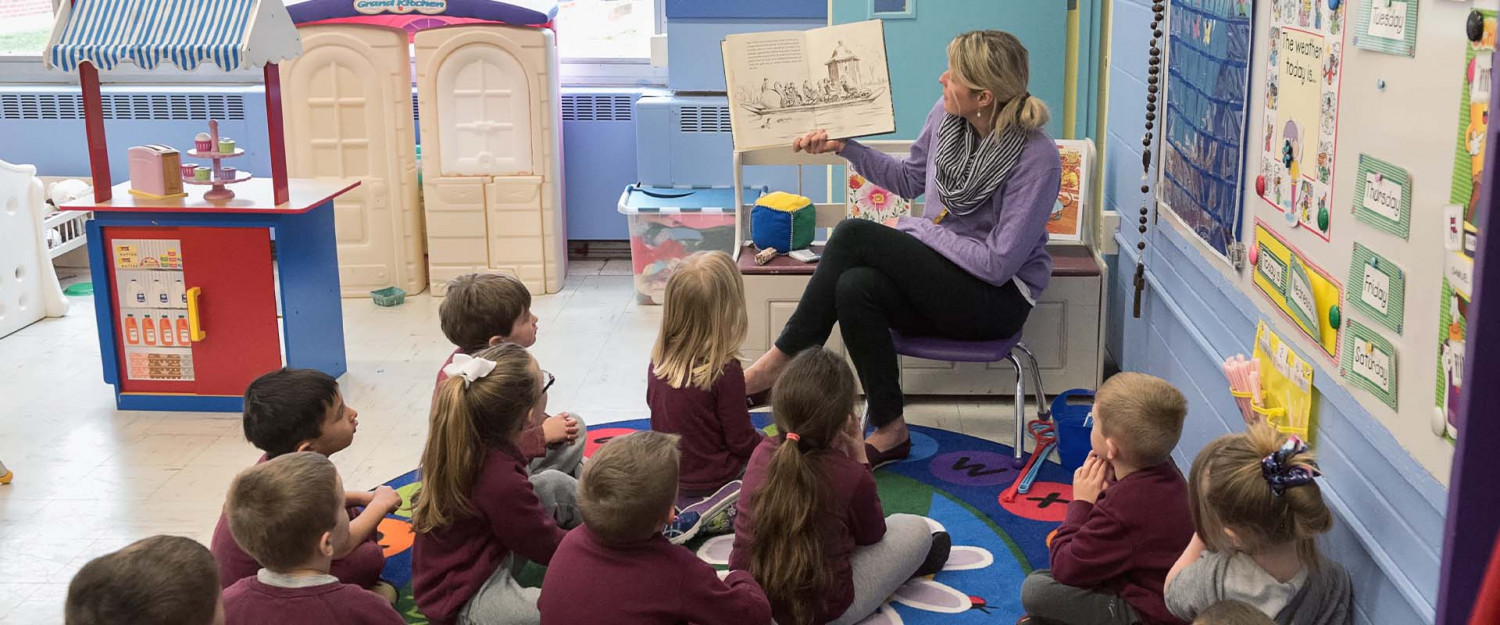 Diocese of Manchester Catholic Schools
Cabrini Fellowship Program
The Cabrini Fellowship and the Catholic School office have a great interest in offering quality courses that will assist candidates to become licensed educators and/or to use these courses for professional development and license renewal. These courses also offer support to teachers in their current teaching assignments.
Courses have been developed to meet NH State standards and are specifically designed for NH Catholic school teachers.
Courses are designed to embed the teachers' current teaching workload into the coursework and to offer a flexible schedule to accommodate a busy teacher's schedule.
Professors are vetted, experienced, and interested in meeting the needs of Catholic School teachers.
Courses provide the opportunity for teachers to collaborate and problem solve together about classroom management, curriculum issues, and more.
The cost is the most affordable offered in the state for these types of courses. ($720 per course)for the 12 week course offered.
Course schedules do NOT interfere with February or April vacation weeks.
Teachers enrolled in Cabrini courses, receive assistance in developing a site-based learning plan (formerly Alt IV) if they are using one to be recommended for certification through the Catholic School office and the NH Department of Education.
Courses are accessible. Most courses are offered in a primarily Zoom format to accommodate various travel and schedule needs. Some onsite coursework may be required and is negotiated.
This program will provide you with a unique opportunity to pair theory and practice while learning on the job and with a cohort group. This Residency program provides significant professional training and support for Residents, including:


An initial summer Bootcamp experience to prepare for the school year and meet specific initial teacher competencies.
Ongoing coursework, instructional coaching and professional development, including the biweekly meetings for new educators to help Residents grow professionally and spiritually under the guidance of a supportive school leader and community.
Opportunities for Spiritual growth.
Licensing Program Details
14-16 month, program leading to NH initial educator license
Total estimated (free) tuition value: $9930
Courses provided as a part of a NH site-based alternative license in coordination with the Catholic Schools Office
Coursework aligned with NH state teaching standards and The NH Catholic school vision and mission and taught by expert educators and leaders
The Cabrini Teacher Fellowship Program will provide aspiring educators the opportunity to teach, grow, and become connected to a school community all while earning a NH teaching license. You will teach in a diverse, joyful, and innovative Catholic education setting - while receiving free housing, stipend and benefits.
Become a Catholic School Teacher and Earn a Teaching License in 14-16 Months
The Teacher Residents commit to teaching in an NH Catholic school classroom for two years. During this same time period, Residents participate in an educator preparation program to hone critical knowledge and skill in preparation to earn an initial educator license. Residents will be provided with housing, free tuition, a stipend, and benefits.

$10,000 stipend
Housing accommodations provided by the Diocese of Manchester
Health benefit Coverage
On site teaching experience with an experienced certified educator in a NH Catholic school
Bachelor's Degree from Accredited College/University by June 2022
Reference Letter from a Member of Clergy or other Ministry Leader
Practicing Catholic
Ability to Start in the program on July 1, 2022
Ability to pass a Criminal Background check
Ability to complete Diocese of Manchester Safe Environment Program
Observation hours in a K-12 school and/or prior experience working with youngsters strongly recommended
NH Catholic Schools Teacher Residency Program /NHCS-TRP
Education is integral to the mission of the Church to proclaim the Good News. First and foremost, every Catholic educational institution is a place to encounter the living God who in Jesus Christ reveals his transforming love and truth (cf. Spe Salvi, 4). (Pope Benedict, XVI, Meeting With Catholic Educators (2008), Washington, DC)

Catholic schools are called to give dutiful witness, by their pedagogy that is clearly inspired by the Gospel... They have the responsibility for offering Catholic students, over and above a sound knowledge of religion, the possibility to grow in personal closeness to Christ in the Church. (Congregation for Catholic Education, Educating in Intercultural Dialogue in the Catholic School: Living in Harmony for a Civilization of Love (2013), #56)
Application to the program. Please mail or email all application materials to:

Catholic Schools Office Teacher Residency Program
Diocese of Manchester
153 Ash Street
Manchester, NH 03104-4396
Email: LZolkos@RCBM.org

Program application includes:

Application
Writing sample
Official Transcripts (applicant must hold minimum of a Bachelor's degree)
2 Letters of recommendation (forms)
Letter of support/recommendation from clergy/youth ministry
(preferred) 50 hours of classroom observation or equivalent completed (include letter of
documentation)
Passing of NH Praxis Core Academic Skills (Reading, Writing, Math)
Passing of Praxis II if applicable
Resume
Rigorous transcript review to determine entry level requirements and competencies to be addressed for a site-based plan.
Candidate interview with Program Director and Catholic Schools Office
Potential school site interview(s)
Contact Us